How to reach Potenza
Potenza is easily reachable by trains (Trenitalia, Italotreno) and by airplane, suggested airports with direct connection available from Naples Capodichino, Rome Fiumicino and Bari Palese.
From Rome Fiumicino Airport you can reach central Rome's Termini rail station by a direct train, "Leonardo Express" (that will leave every half hour in each direction). The trip lasts about 45 minutes and the ticket costs 14,00 €.
From Naples Capodichino International Airport you can reach the Naples Central rail station by a direct shuttle bus, ALIBUS, with departures every 20 to 30 minutes from the bus stop that is located on the exit side of the airport, about 100 meters from the arrivals terminal. The journey takes about 15-20 minutes and it costs 5,00 €.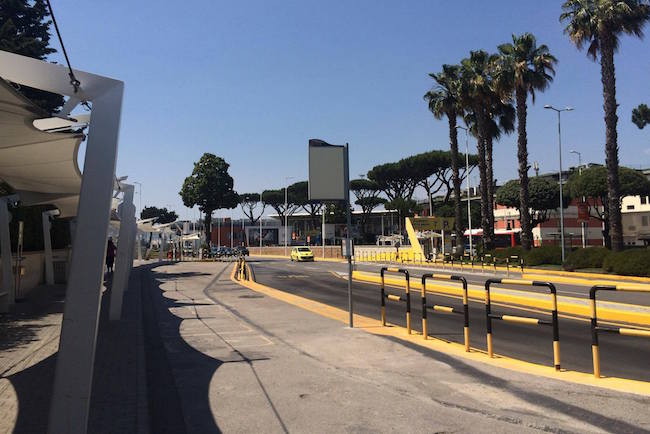 Airport Alibus Stop
From Naples Capodichino Airport there is also a direct connection to Potenza by bus, operated by Autolinee Liscio company.
It makes three courses per day at 2:00 PM (arrival in Potenza at 4:30 PM), 5:30 PM (arrival at 8:10 PM) and 9:50 PM (arrival at 11:40 PM). The Liscio's bus stop is located in the GE.S.A.C parking, close to the roundabout in Viale Fulco di Calabria (see the map). The ticket costs 10,10 €.
Here you can find some suggested direct connections from Rome and Napoli rail station:
Suggested direct connections from Rome to Potenza by Trenitalia are:

Departure 6:26 AM Roma Termini - Arrival 10:59 AM Potenza Centrale, Train Intercity 701

Departure 3:26 PM Roma Termini - Arrival 8:02 PM Potenza Centrale, Train Intercity 707

Departure 6:50 PM Roma Termini - Arrival 10:12 PM Potenza Centrale, Train Frecciarossa 1000 9541

Suggested direct connections from Napoli to Potenza by Trenitalia

Departure 8:45 AM Napoli Centrale - Arrival 10:59 AM Potenza Centrale, Train Intercity 701

Departure 4:17 PM Napoli Centrale - Arrival 6:46 PM Potenza Centrale, Train Regionale 3469

Departure 5:53 PM Napoli Centrale - Arrival 8:02 PM Potenza Centrale, Train Intercity 707

Departure 7:15 PM Napoli Centrale - Arrival 9:15 PM Potenza Centrale Train Bus PZ109

Departure 8:10 PM Napoli Centrale - Arrival 10:12 PM Potenza Centrale Train Frecciarossa 1000 9543

For other connections please visit the Trenitalia and Italotreno web sites
Long range buses are also available from most of the Italian cities (e.g. Flixbus) and particularly Matera, Potenza, Napoli (e.g. Liscio, Miccolis) and Rome (e.g. Liscio)
For ticketing service and shuttle services to/from Potenza, please, contact This email address is being protected from spambots. You need JavaScript enabled to view it.
FOR NO GOOGLE MAP USERS download indications to Intercity Bus Stop at Naples Capodichino Airport and Naples Train Station